Individually Frozen Boneless Skinless Chicken Thighs
BASIC COOKING INSTRUCTIONS
CONVENTIONAL OVEN:
Preheat oven to 400*F
Arrange chicken thighs in a single layer in a shallow, oven-proof, roasting pan.
Cover tightly with foil and bake for 20 minutes if thawed, or 35 minutes if frozen.
Remove foil, turn chicken over and cook for 10-20 minutes or until chicken can be easily pierced with fork and internal juices run clear. For best quality, bake to minimum temperature of 165F at its thickest point as measured by use of meat thermometer.
Let stand for 3-5 minutes before serving.
GRILL:
Heat grill to medium heat.
Grill from frozen, turning every 4-5 minutes, for approximately 20-30 minutes, until chicken can be easily pierced with fork and internal juices run clear. If thawing first, decrease cook time by approximately 5 minutes. For best quality, bake to minimum temperature of 165F at its thickest point as measured by use of meat thermometer and juices run clear.
Let stand for 3-5 minutes before serving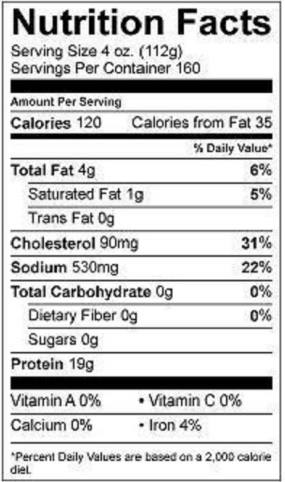 Boneless, Skinless Chicken Thigh Meat Containing Up To 15% Solution of Water, Salt, Sodium Phosphates