Individually Frozen Chicken Drumsticks
BASIC THAWING INSTRUCTIONS
REFRIGERATOR:
Place unopened bag or raw pieces from bag, covered in plastic wrap, in a large bowl or pan and refrigerate on bottom shelf of refrigerator overnight.
MICROWAVE: 
Follow your manual's defrost instructions
Thaw no more than 3 drumsticks at a time on microwaveable plate covered with plastic wrap.
Rotate plate one-quarter, turn 4 times during defrost cycle, checking drumstics before each rotation.
Turn drumsticks over and recover with plastic wrap halfway through defrost cycle.
Note: some microwaves may defrost faster than others.
BASIC COOKING INSTRUCTIONS
CONVENTIONAL OVEN:
Preheat oven to 375*F
Arrange frozen pieces in a single layer on a shallow, baking pan.
Bake for 55-65 minutes until internal juices run clear. For food safety, insert calibrated thermometer into thickest part of meat and cook to 185F. Season as desired.
Let stand for 3-5 minutes before serving.
GRILL:
Heat grill to medium heat.
Grill from frozen, turning often, for 20-30 minutes, until minimum internal temperature of 185F is reached in the thickest piece and internal juices run clear.
Pieces might be thawed in the refrigerator overnight, which could decrease the cooking time by approximately 5 minutes.
If desired, frequently brush with barbecue sauce, fruit glaze or other sauce, turning during last 10-15 minutes.
ALSO GREAT FOR PAN FRYING!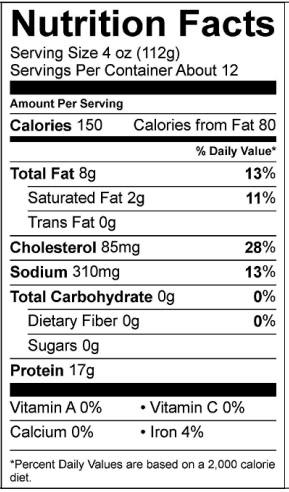 Frying Chicken Drumsticks, Contains a 15% Solution of Water, Chicken Broth, Salt